DETERMINANT ANNOUNCES STORE OPENING AT VINCOM CENTER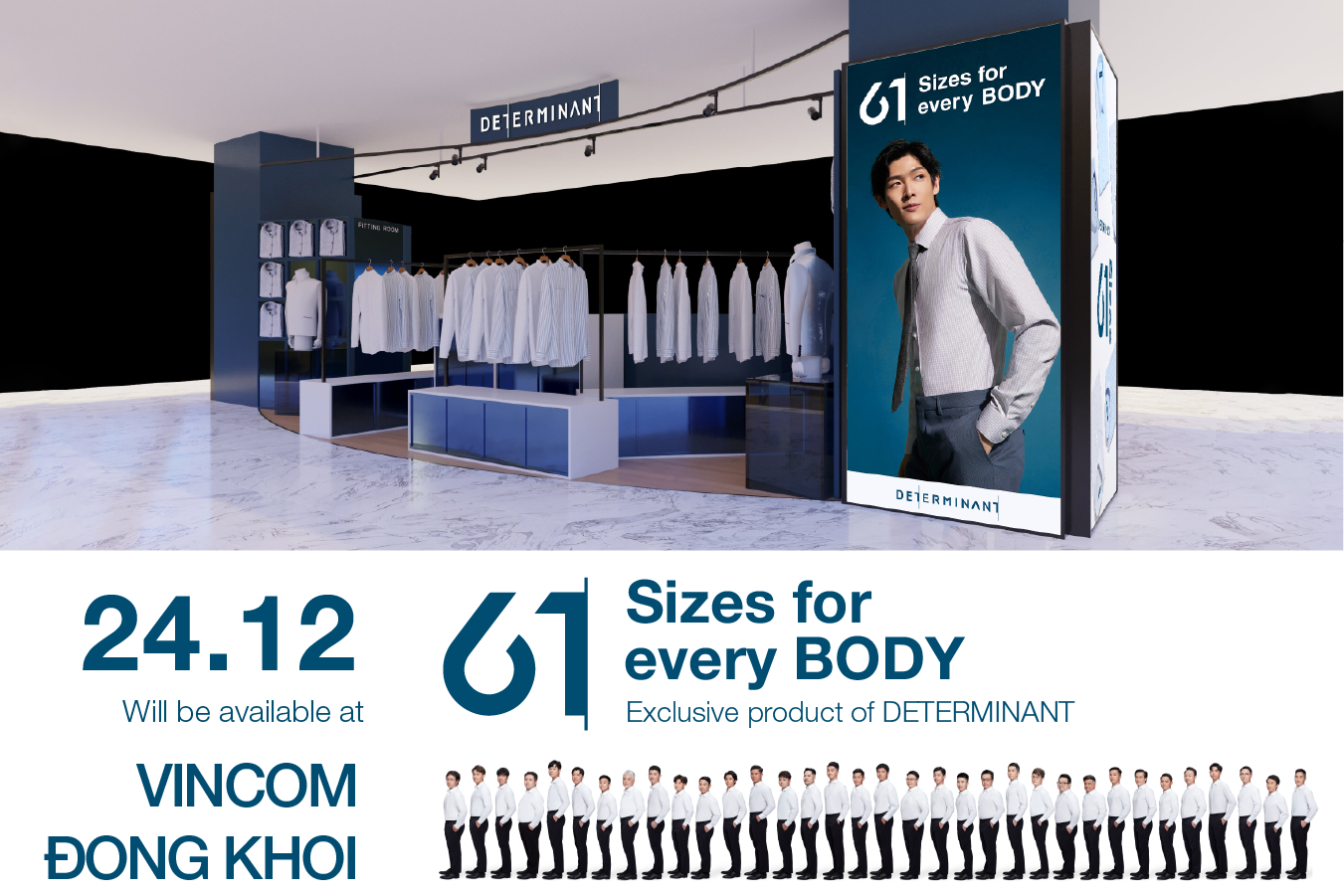 Time: December 24, 2022
Place: Vincom Center Dong Khoi
45A Ly Tu Trong, Ben Nghe, District 1, Ho Chi Minh City
We are pleased to announce that DETERMINANT's new store will be available at Vincom Center Dong Khoi on December 24, 2022. This special event affirms the rapid and sustainable development of DETERMINANT after 2 years of presence in Vietnamese. DETERMINANT is pleased to present an impressive exclusive, that is the 61 shirts for everybody at this event. Moreover, DETERMINANT also offers a series of promotions, attractive gifts, and exciting entertainment activities during the opening week.
ABOUT DETERMINANT
DETERMINANT is a Hong Kong-based men's clothing brand specializing in high-quality shirts and accessories. The DETERMINANT proposition is simple – exceptional quality, functional technologies, and modern style. DETERMINANT helps streamline your wardrobe so that you can focus on what matters. Let your clothes simplify your life, not complicate it is the DETERMINANT's purpose.
The DETERMINANT collection includes:
- Dress Shirts, Smart Shirts and Casual Shirts

- Polos and T-Shirts

- Sweatshirts and Hoodies

- Knitwear and Outerwear

- Bottoms

- Accessories: Masks and Travel Essentials
DETERMINANT's mission is to provide products with impeccable quality, outstanding features, modern design style and manufactured by an experienced supply chain. DETERMINANT's products are designed and manufactured with attention to detail to bring elegant and dynamic fashion styles for customers while helping to protect the environment and consumer health.
The DETERMINANT representative shared: "This is the 5th store in Vietnam and the 4th in Ho Chi Minh City. Along with the online store system, DETERMINANT offers Vietnamese consumers a modern, elegant shopping space with a minimalist design style and a properly displayed store. DETERMINANT promises to be a reliable shopping place for Vietnamese consumers and those who prefer the elegant style.
DETERMINANT looks forward to your attendance in the opening week. Contact DETERMINANT with anything you need support through:
Contact:
Phone: 097 601 7108
Email cs@detshirts.vn Website: www.detshirts.vn
Introducing our new Fall/Winter 2023 Collection featuring CottonSTRETCH and HeatGuard technologies. Experience on-the-move warmth and vibrant looks this year! Discover our conte...
Đọc thêm
Triển lãm "FashionTech Fusion - DETERMINANT City" diễn ra từ 7/10/2023 - 17/10/20323 tại Vạn Hạnh Mall nằm trong khuôn khổ triển lãm Thành phố của thời trang và công nghệ của th...
Đọc thêm
DETERMINANT là nhãn hàng thời trang cao cấp dành cho nam giới nổi tiếng tại Hồng Kông. Với những sản phẩm được làm từ sợi bông cao cấp mềm mịn cùng dây chuyền sả...
Đọc thêm