Prize of 800K to the winner: Challenge DETERMINANT Sizing Availability Week from DETERMINANT VIETNAM
When you can't find the proper size for your body, an 800K Phillips brand steamer awaits you, and the flagship product, the 301 shirt, comes in a 61-size set.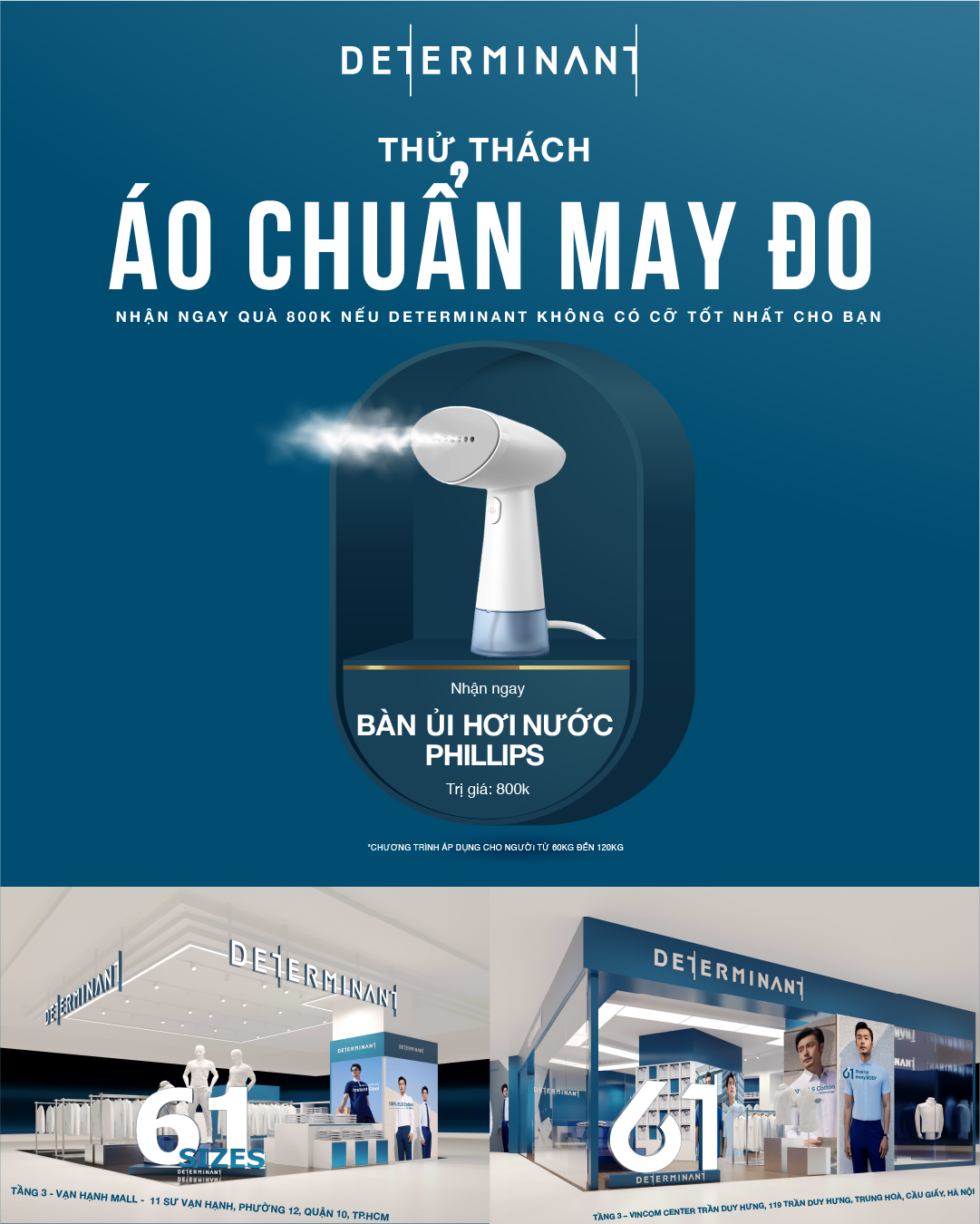 Gifts of $800,000 to Challenge winners in DETERMINANT shops in Van Hanh Mall District 10 (24.6 - 2.7) and Vincom Center Tran Duy Hung HN (30.6 - 9.7).
"Verify your commitment to fitting every body" challenge: DETERMINANT will give away a premium Phillips steam iron if we DO NOT HAVE THE BEST SIZE for a man* who comes in to try on a model 301 shirt.Many models of Polo, Shirt, Instantcool technology, and a variety of great presents are discounted by up to 55%. Bring your pals to complete the challenge!
A standard shirt must meet three criteria on the same shirt*:
1. Tuck two fingers in after buttoning the neck for a non-tight fit.
2. After fastening, the row of buttons lies straight in the middle of the chest and leans slightly on the centre of the rib frame.
3. The sleeve stops at the thumb joint and the bony projection at the base of the wrist.
---
*A professional stylist will thoroughly share and assist you in checking the standard in store.
*The program does not require pre-registration to participate in the following time slots: 10am-12pm, 1pm-3pm, 4pm-6pm, and 7pm-9pm.
*The set of standards is only applicable to male guests weighing 60 to 120 kg. I wish you could understand.
DETERMINANT is a Hong Kong-based men's clothing brand specializing in high-quality shirts and accessories. The DETERMINANT proposition is simple – exceptional quality, functional technologies, and modern style. DETERMINANT helps streamline your wardrobe so that you can focus on what matters. Let your clothes simplify your life, not complicate it is the DETERMINANT's purpose.
The DETERMINANT collection includes:
- Dress Shirts, Smart Shirts and Casual Shirts
- Polos and T-Shirts
- Sweatshirts and Hoodies
- Knitwear and Outerwear
- Bottoms
- Accessories: Masks and Travel Essentials
DETERMINANT's products are designed and manufactured with attention to detail to bring elegant and dynamic fashion styles for customers while helping to protect the environment and consumer health.
Come to Determinant now to be able to shop for yourself the right products to wear this Lunar New Year! What are you waiting for, without coming to DETERMINANT right away to let F5 have a new look to welcome the new year, full of confidence and energy!
---
➡️ Website: https://detshirts.vn/
➡️ Zalo: zalo.me/134098322177570165
➡️ List of stores:
🔘 Ho Chi Minh:
- 30 Nguyen Trai St, Ben Thanh, District 1
- Floor B1-62, Vincom Dong Khoi, 45A Ly Tu Trong, Ben Nghe, District 1
- 2nd floor, Vincom Mega Mall Thao Dien, 161 XL Hanoi, Thao Dien, District 2
- 2nd floor, Vincom Plaza Phan Van Tri, 12 Phan Van Tri, Ward 7, Go Vap
- Floor 01, LOTTE Mart, 469 Nguyen Huu Tho St, W.Tan Hung, District 7
- Floor 03, Van Hanh Mall, 11 Su Van Hanh, Ward 12, District 10.
🔘 Hanoi
️- 2nd floor, Vincom Mega Mall Smart City, Vinhomes Smart City Urban Area, Nam Tu Liem
- Floor 03, Vincom Center Tran Duy Hung, 119 Tran Duy Hung, Ward Trung Hoa, District Cau Giay, Ha Noi.
Introducing our new Fall/Winter 2023 Collection featuring CottonSTRETCH and HeatGuard technologies. Experience on-the-move warmth and vibrant looks this year! Discover our conte...
Đọc thêm
Triển lãm "FashionTech Fusion - DETERMINANT City" diễn ra từ 7/10/2023 - 17/10/20323 tại Vạn Hạnh Mall nằm trong khuôn khổ triển lãm Thành phố của thời trang và công nghệ của th...
Đọc thêm
DETERMINANT là nhãn hàng thời trang cao cấp dành cho nam giới nổi tiếng tại Hồng Kông. Với những sản phẩm được làm từ sợi bông cao cấp mềm mịn cùng dây chuyền sả...
Đọc thêm